10 Stunning Monsoon Getaways in Maharashtra to Rejuvenate Your Soul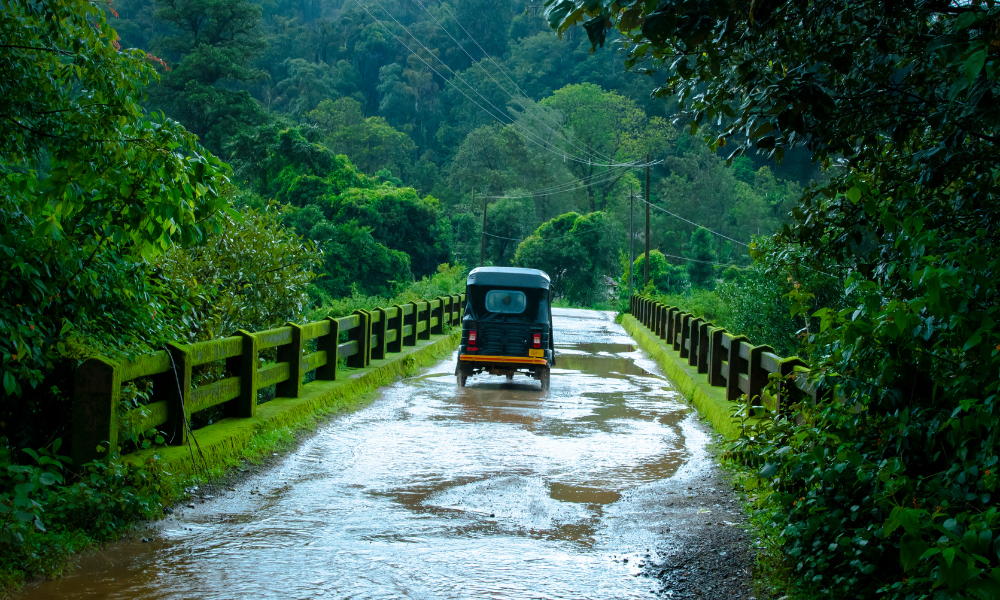 The monsoon season in Maharashtra is a time of enchantment when the landscape is transformed into a lush paradise. The Western Ghats come alive with vibrant shades of green, glistening waterfalls, and a refreshing breeze laden with the earthy aroma of rain-soaked soil. If you're yearning for a rejuvenating escape amidst nature's beauty, then these ten breathtaking places should be on your monsoon getaway list
1. Bhimashankar, Pune – A Verdant Retreat in the Sahyadris
Nestled in the heart of the Sahyadri Hills, Bhimashankar wears a mesmerizing shade of green during monsoon. The Sahyadri Wildlife Sanctuary and Jyotirlinga Temple add to their allure, making it a must-visit destination. Explore the sanctuary's abundant flora and fauna, and witness rare animal breeds come alive in this bewitching realm.
2. Bhandardara, Ahmednagar – Camping Amidst Nature's Beauty
Escape to Bhandardara, an offbeat hill station adorned with waterfalls, lakes, and lush landscapes. Ideal for camping and trekking, its pristine beauty is accentuated by monsoon rains. With altitudes surpassing 2000 meters, Bhandardara offers perfect camping sites for you and your friends.
3. Malshej Ghat, Thane-Pune – A Thrilling Adventure Hub
Malshej Ghat, known for picturesque trails and cascading waterfalls, beckons adventure seekers. Explore Ajoba Hill Fort, Darkoba Peak, and Jivdhan Chawand Fort, or embark on the Harishchandragad Fort Trek for the ultimate experience. Shivneri Fort, the birthplace of Chhatrapati Shivaji, adds historical charm.
4. Matheran, Raigad – Panoramic Vistas and Tranquility
Matheran, the smallest hill station, transforms into a paradise during monsoon. Louisa Point, Panorama Point, Monkey Point, and more offer breathtaking views of nature's wonders. The mist-covered landscapes and exceptional photography opportunities make Matheran a must-visit destination.
5. Alibag, Raigad – Coastal Charm and Pristine Beaches
Alibag, known for its stunning architecture and pristine beaches, undergoes a captivating transformation during monsoon. With turquoise waters and lush greenery, it's a postcard-perfect coastal destination. Enjoy sunsets at Nagaon Beach, Alibaug Beach, and Varsoli Beach.
6. Karnala, Raigad – A Fort Overlooking the Rainforest
Karnala Fort, rising over 450 meters, offers a unique perspective of the Mumbai coastline and Sahyadri Range. A trek to the fort rewards you with surreal views and a chance to spot over 150 bird species in Karnala Bird Sanctuary. Monsoon brings out the vibrant beauty of this captivating destination.
7. Kolad, Raigad – Adventure and Natural Beauty Combined
Kolad, an adventure enthusiast's haven, offers activities like white-water rafting, trekking, and zip-lining. Surrounded by sprawling campsites and picturesque homestays, Kolad provides an unforgettable monsoon experience. Explore Kuda caves, Tamhini falls, and Bhira dam in this scenic destination.
8. Harihareshwar, Raigad – Coastal Tranquility and Scenic Mountains
Known as the "House of God," Harihareshwar offers tranquil beaches surrounded by the majestic Harihareshwar, Brahmadri, Pushpadri, and Harshinachal mountains. Discover the magical healing powers believed by locals and immerse yourself in the serene beauty of this monsoon paradise.
9. Shrivardhan, Raigad – Rustic Beach Beauty and Historic Sites
Shrivardhan boasts stunning white-sand beaches, historic temples, and the unspoiled beauty of nature. As monsoon descends, the place transforms into a picturesque haven. Explore Laxminarayan Temple, Diveagar, Kandivali, and Harihareshwar for a memorable monsoon getaway.
10. Lohagad, Pune – A Towering Fort Amidst Mist and Greenery
Lohagad Fort, the epitome of rustic charm, offers panoramic views of the surrounding landscapes. The mist-covered trails lead you to this historical treasure, which has witnessed the rise and fall of dynasties. Nearby attractions like Pavna dam, Lonavla, and Karjat enhance the allure of this monsoon escape.
As the monsoon showers drench Maharashtra, these ten exquisite destinations offer a serene and enchanting escape from the routine. Embrace the beauty of nature, explore historical sites, and embark on thrilling adventures while immersing yourself in the magic of the monsoon. Plan your perfect monsoon getaway to experience the heartwarming transformation of these captivating places in Maharashtra.